"Initially, ICES solutions were deployed as a supplement to existing gateway solutions, but increasingly the combination of the cloud email providers' native capabilities and an ICES is replacing the traditional SEG."
IRONSCALES Email Security
IRONSCALES™ is an integrated cloud email security solution (ICES). Our API-based and AI-powered platform is continuously learning, detecting and remediating advanced threats at the mailbox level, before and after email delivery.
A truly comprehensive email security solution empowers you to focus on your most important work instead of getting bogged down with complex solutions–or worse, suffering a phishing attack.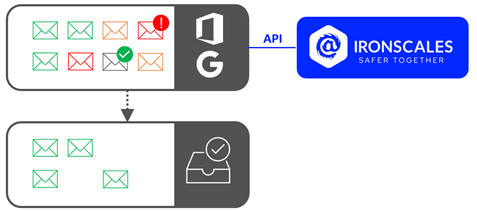 Read the IRONSCALES™ Gartner® reviews
It's not just our customers talking about us
The word is out: IRONSCALES is leading the pack in email security!
Integrate seamlessly with the leading cloud email platforms
Our email security service is designed to come to you and to scale at the pace of your business. Using our native API integrations, you can deploy IRONSCALES in just minutes with no configuration changes, risk, or downtime to your operations.
Disclaimer
GARTNER is a registered trademark and service mark of Gartner and Peer Insights is a registered trademark of Gartner, Inc. and/or its affiliates in the U.S. and internationally and are used herein with permission. All rights reserved.
Gartner Peer Insights content consists of the opinions of individual end users based on their own experiences with the vendors listed on the platform, should not be construed as statements of fact, nor do they represent the views of Gartner or its affiliates. Gartner does not endorse any vendor, product or service depicted in this content nor makes any warranties, expressed or implied, with respect to this content, about its accuracy or completeness, including any warranties of merchantability or fitness for a particular purpose.